Cultural Development
Talent Plus' process for Cultural Development provides you and your organization with strategies to develop or enhance your mission, vision and values and create talent-based strategies for the selection, development and retention of employees. Looking at your organization in its future state through a talent-based lens will help you envision needs from the front line through the leadership suite in taking your organization to the next level.
We offer a suite of cultural development solutions for our client partners. To learn more, review our solution path by clicking on the image below.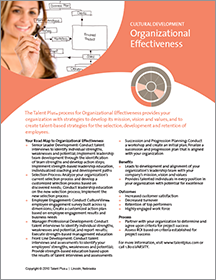 To learn more about Talent Plus' processes around organizational effectiveness and culture, contact us.