Manager/Professional Solutions
Finding the best talent to manage and lead teams is critical. Talent Plus' proprietary development tools build upon the findings in the selection process. Your organization's managers and professionals gain further knowledge of their own talents, as well as insight on how to leverage those to be more productive and meet organizational goals. 
Whether you need to:
determine which individuals have the potential to be great managers
develop your managers
open a new location
build a succession plan
At Talent Plus, we offer a suite of manager/professional solutions for our client partners. To learn more, review our solution path by clicking on the image below.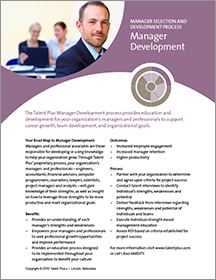 Talent Plus can optimize your manager selection and provide development tools. To learn more about the selection and support for managers and professionals, contact us.