Senior Leader Solutions
Talent Plus' Senior Leader Selection process ensures world-class organizations a competitive advantage in the search for and selection of senior leaders. Our Senior Leader Development process: 
assists in the selection of the right leader for the right role
strengthens leaders' relationships with individuals they lead and the organization, as well as the external environment in which their organizations operate
provides the basis for succession and progression planning – critical for your organization's future state
At Talent Plus, we offer a suite of manager/professional solutions for our client partners. To learn more, review our solution path by clicking on the image below.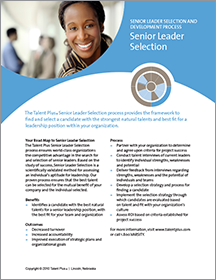 To learn more about the selection and development of leaders and the impact this can make in an organization, contact us.